POST POST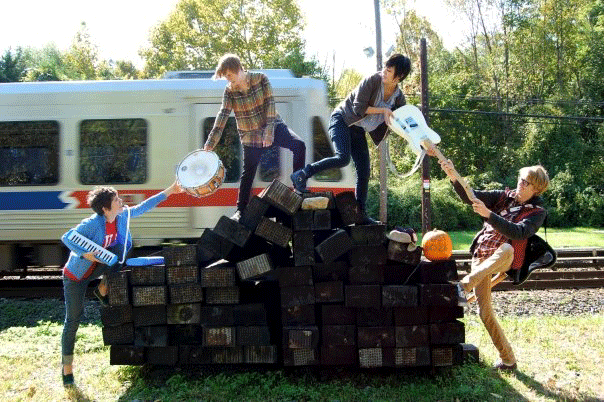 Michelle Zauner: Guitar, Vocals
Marisa Helgeson: Synth, Vocals
Casey Sowa: Drums, Vocals
K.O.H.: Bass, Grooves
Post Post came together in the Fall of 2008 when four young friends set up a makeshift rehearsal space in a 10X10 concrete slab in a building designed by the legendary Louis Kahn. Within minutes of kicking off their first song, there was a group of disgruntled girls at the door, demanding to know what was making so much noise. And they had a right to complain, because this wasn't a typical rehearsal space: it was Marisa's dorm room. That confrontation wasn't the last time the band would find themselves going against the grain.

Post Post is an all-girl indie rock band comprised of four college juniors who met and formed at Bryn Mawr College, an all-women's liberal arts college outside Philadelphia. Both Michelle and Casey were involved in bands in high school, and it didn't take them long to find each other and their shared desire to resume making music. After a few haphazard jam sessions and casual conversations about establishing a real project, Marisa and Riki wandered into the picture offering to fill in the missing pieces, and Post Post was born. Now with a less controversial practice space, Post Post is working on their live set as well as new material for their upcoming full-length LP. Zauner fronts as a magnetic lead vocalist and songwriter, drawing upon her experience in her solo act Little Girl, Big Spoon. Her knack for writing catchy pop melodies is set off by her emotional, often clever and introspective lyrics, a rare blend that simultaneously appeals to both sides of human nature. As Little Girl, Big Spoon, Michelle shared stages with a number of prominent indie voices, such as Menomena, Deerhoof, M. Ward, and Kimya Dawson.
ALBUMS